English the Silent Way: 3-day workshop, July 2019 in Tokyo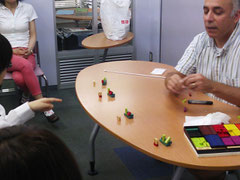 Would you like to join an intriguing English Workshop? 
We welcome thoes people!
1. the person who wants to
learn the English.
2. the person who wants to observe this course. 
You can experience learning the English language in a  group using the Silent Way approach. 
<The instructor: Don Cherry >  
Donald Cherry has a Master of Arts in Teaching (MAT) from the School for International Training. He has been teaching English using the Silent Way for more than 20 years. He currently teaches English at Hiroshima International University.
< About the Course > 
People are endowed with incredible learning abilities. These abilities have allowed us to evolve from crawling babies to the complex, sophisticated human beings that we are now. The number of skills we have learned in the process is beyond calculation. 
Too often, though, our natural learning abilities are not used well enough in language classrooms. In a misguided effort to stuff information into students' heads, students are prevented from developing the skill of speaking a foreign language. 
In this course, we will more fully respect the remarkable learning powers that students bring to the classroom. The same powers that have served us all so well in learning so much will be used here to bring students closer to the melody, the structures, and the spirit of English. We will work as seriously and as playfully as children first learning how to jump rope. 
<Dates and Times> 
July 20 (Sat) , 21 (Sun), 22 (Mon)
10:00AM - 5:00PM( including 1-hour lunch break) 
<Fee>
To participate as a language student
A) the whole course (18 hours) :  39,000 yen 
B) per day: 13,000 yen
C) for observers: 6,500 yen/ per day
We strongly suggest those who would like to observe this course attend at least one full day, preferably more.
 <English the Silent Way> 
Students will work to improve their production of English sounds. 
They will do this by practicing these sounds and receiving constant feedback on their production from the instructor. Students will use all tools available to them, including their ears, eyes and mouth, to develop their own inner criteria so that they may become more independent and more effective learners. 
Students will work to describe and talk about situations that are clearly illustrated in the classroom. 
<Place>Kai Japanese Language School 
Miyuki Building  2F  1-15-18 Okubo Shinjuku-ku, Tokyo  
Please refrain from calling KAI Japanese Language School. 
(to inquire call/email Yoko Yasuda, The Silent Way Tokyo) 
<<Application & Payment >> 
Please fill out the on-line form below 
< Deadline for application> 
  Applications will not be accepted after the maximum number of participants has registered. 
<<NOTE>> 
*If you have no exposure to the Silent Way, we strongly suggest you attend from the first day!!! 
*Please remit the fee after you receive the confirmation from us. 
*We will issue a receipt on request. 
<Limited to 20 participants>
The maximum number of students for this course will be 20. Students registering for the full 5-day course will be given preference over those registering for just a day or two.
<To inquire and apply> 
The Silent Way Tokyo  
E-mail: sw.tokyo.info@gmail.com  
Tel: 080-6819-3632   Fax: 03-6802-3314 
To contact us on the day of the workshop
Please call: 080-6819-3632 (Yoko Yasuda) 
<For further information> 
The Silent Way Tokyo: 
FACEBOOK : https://www.facebook.com/SWTokyo 
WEBSITE : http://silentway-tokyo.jimdo.com/